"Compassion is contagious."
- Nick Goodin, Video Production Coordinator at OSF Healthcare
It's true. Compassion, when witnessed, tends to elicit compassion in others. Doing something nice for someone else is not usually a hard task, yet the smallest acts of kindness can make the biggest impact. This story is a culmination of several acts of kindness and the major impact they've had for a family in Illinois and, potentially, many other families. 85 miles north of Springfield lies the bustling suburb of Eureka where Logan and Kara live with their twins, Beau and Brooklyn. Born at 28 weeks, Beau weighed just 1 pound 11 oz. We could tell his whole story, but we think this video from the OSF Children's Hospital of Illinois does an amazing job:
As the video shows, Beau and his family have been through a lot. This story is a prime example of the ripple effect. The desire to make life better for others prompted Logan to connect with Advanced Ag Concepts. They were compelled to help and ultimately worked with Logan to create five additional brackets, which were fitted to five Pathfinder Wagons donated by Radio Flyer. All of this started with two parents who wanted to make their son's life better.
We were first introduced to the Ruder's and their story when Chantelle, one of our engineers, came across a post on the Society for the Advancement of Material and Process Engineering (SAMPE) forum.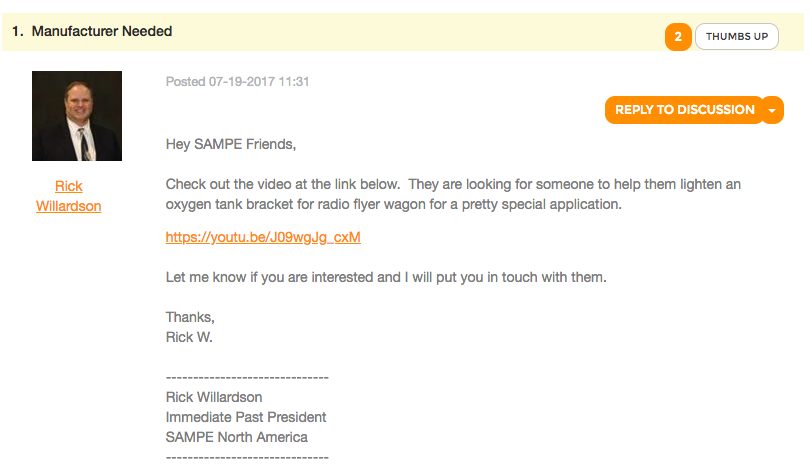 Rick Willardson was the SAMPE North America President at the time. Rick's former employer/boss, James Richmond, had reached out to see if he knew of anyone who could help his nephew Logan. Rick shared the video to the member forum, and Chantelle happened to log in to the forum and see it. She was moved and had to share it with Northwest Rapid's owner, Heather, and the team's other engineer, Ken.
"What can I say: stories about pets and kids get to me – right in the old ticker," Ken shared. "When Chantelle brought this story to us, it struck a chord (C minor to be exact), and I knew I had to get involved." After shedding a few tears (mostly from Ken), they got to work on a design. Ken made two versions of the bracket, as the first did not meet the strength requirement – it was a little too flexible for Ken's liking. Below are the two variations. On the left is the first iteration and on the right is the second, more stable design: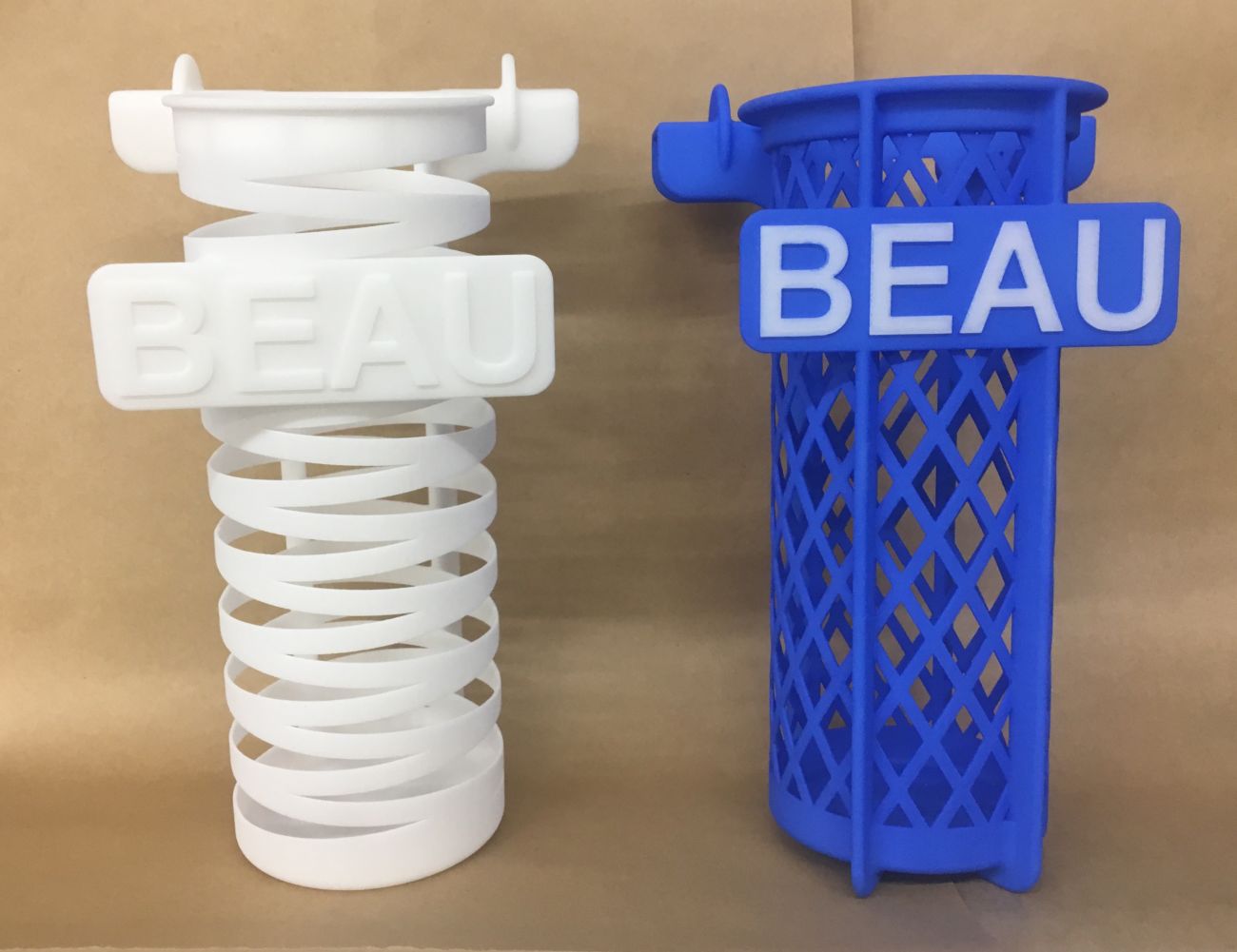 The final design. Both brackets were made with nylon 12.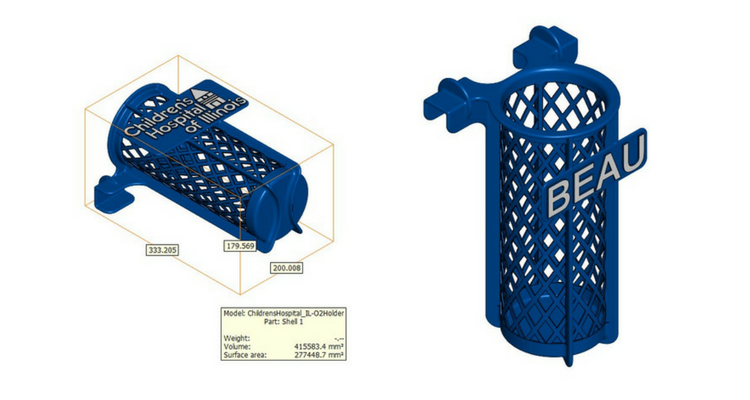 Bringing Ken's Design to Life
Have you ever wondered how our machines work? After the lasers sinter the powder, there's still work to be done.
Cameron, our SLS Operator, demonstrates the process of breaking out the bracket from what we lovingly refer to as "cake". After a design is printed, we break away the unsintered powder, which can be recycled and in some cases reused.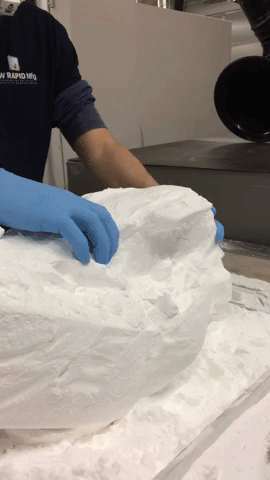 We try to remove as much of the excess powder as possible.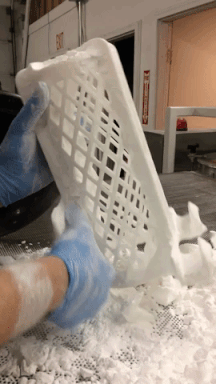 Then we sandblast the bracket to remove the remaining fine loose powder.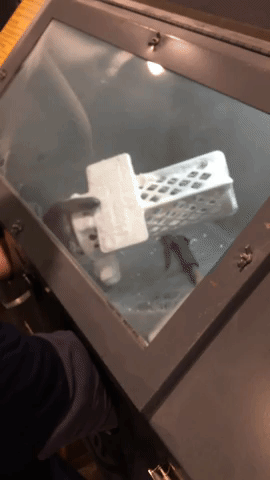 Here's the bracket before it gets color: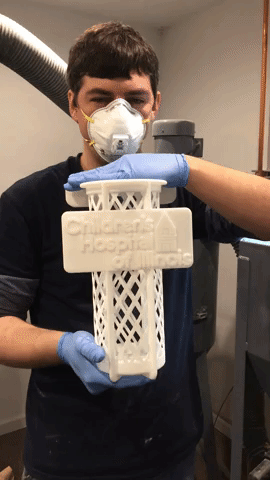 And after it gets its dye bath: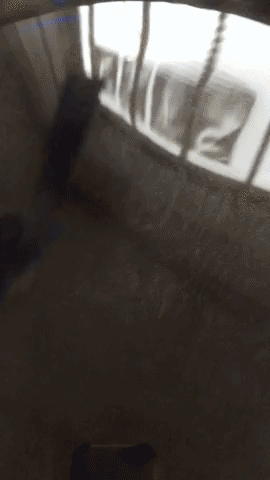 And here we have the finished bracket, complete with a hand-colored logo: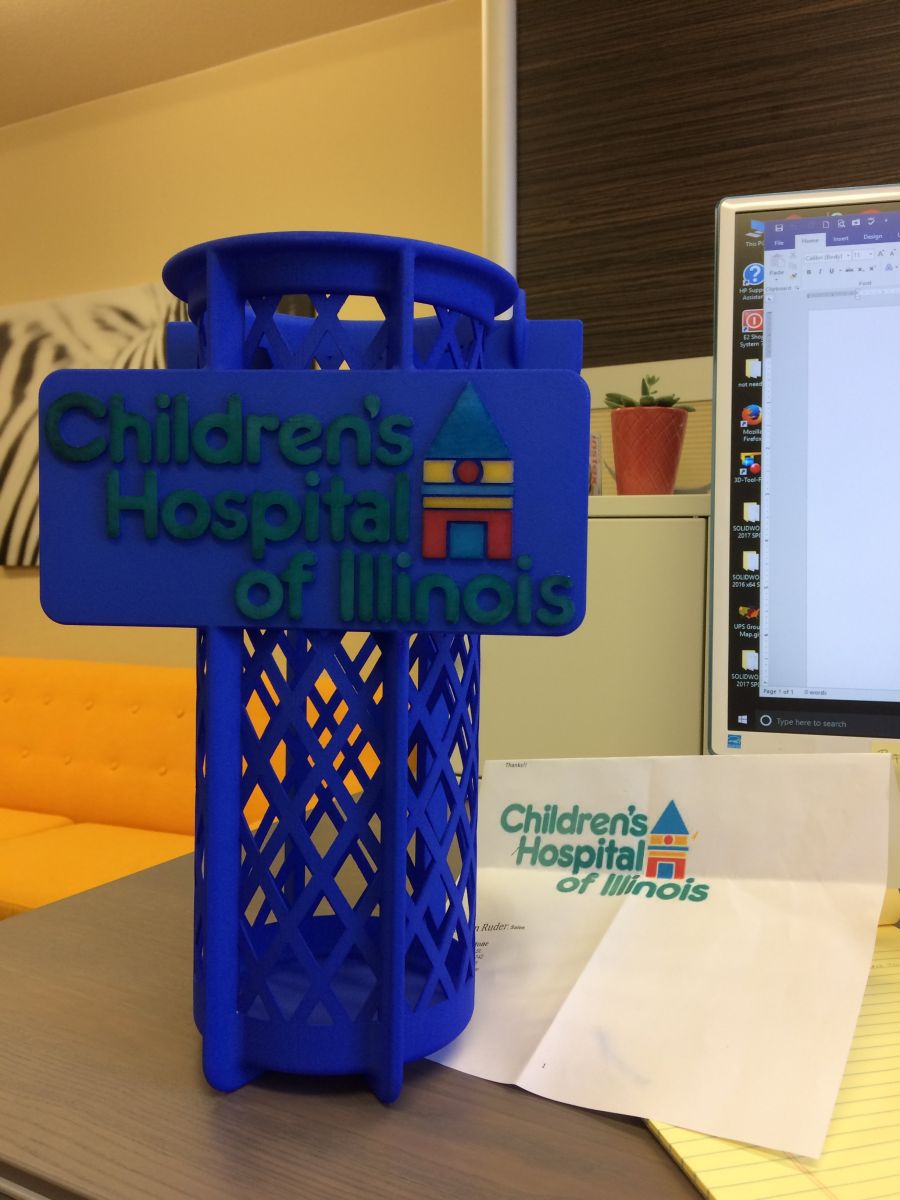 It looks like the final brackets were well received, and we couldn't ask for more.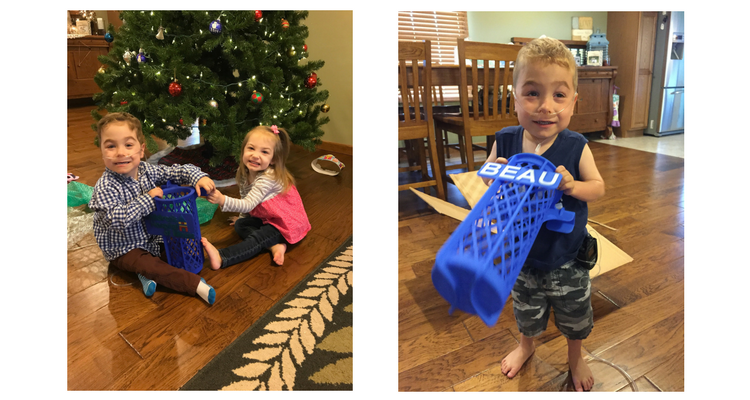 The way life comes together is awe-inspiring. That the stars aligned to make this happen is nothing short of amazing, and that so many people stepped up to help is beyond encouraging. (Oh, what we can do when we work together!)
We are so fortunate to have the ability to be involved in this little man's life, hopefully making it better in the process. We have a few more brackets to donate to the Children's Hospital of Illinois, and we look forward to sharing that story next. Learn more about the Children's Hospital and what they're up to on their website, and follow Beau's story on his dad's Facebook page.